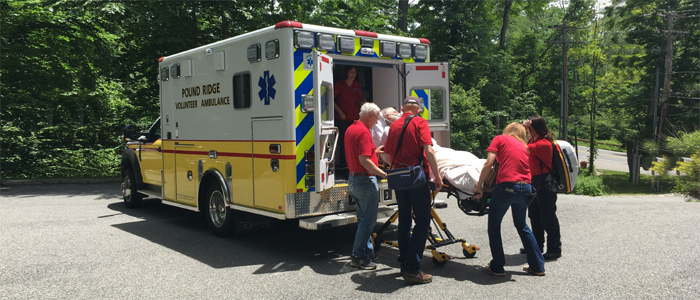 The Pound Ridge Volunteer Ambulance Corps has members from all walks of life. You do not need prior experience or certification. We will train you. All members are required to commit to attending monthly meetings, participating in training, and obtaining CPR certification.
Membership FAQs:
Do I need any certifications or special training to join the Corps?
No.  We will provide any necessary training.
What are the requirements to join the Corps?
New members must be at least 17 years old and should live or work in Pound Ridge.
Members must attend monthly Business and Training meetings
Members must either respond to daytime calls or take a weekly night shift and one Saturday night shift a month.
Members are expected to respond to at least two calls a month
What kind of training will I receive?
You will receive CPR training & certification,  driver training/EVOC (Emergency Vehicle Operations Course) and training in the use of stretchers & other patient carrying equipment.  Members can further their skills with NYS EMT (Emergency Medical Technician) training & certification.
How can I apply for a volunteer position?
Please fill out and submit the application form below.