1966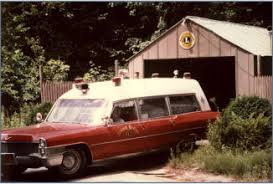 In the early 1960's emergency medical transportation from Pound Ridge to area hospitals was provided by the Mt. Kisco Lions Ambulance Corps. The long response times prompted the Pound Ridge Lions Club to start their own ambulance corps. With the assistance of the Mt. Kisco Volunteer Ambulance Corps and Lions Club, the Pound Ridge Lions organized a volunteer ambulance corps. Chartered by New York State in 1966 the Town of Pound Ridge now had it's own emergency medical services.
The founding members included Alvin Jordan (banker), David Berman (dentist), Matthew Rosenschein (doctor), Warren Everretts (livery service), William Allen (pharmacist), and Ted Albano (Albano Appliance). The first garage was a sheet-metal shed on town property behind Ted Albano's store. Dispatch was initially by the South Salem Answering Service and the Corps responded to 40 to 50 calls per year.
1975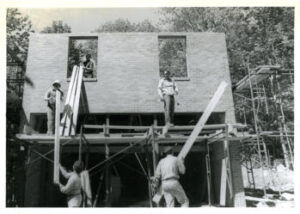 With the local population over 3800 (1970 census), and the corresponding increase in calls for help, the town donated a parcel of property for a permanent building. Construction broke ground in the Spring of 1975, with the Lions coming together on weekends to work on the building. The process took 6 years and was completed and dedicated in 1981.
2000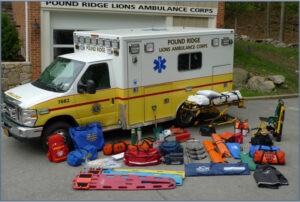 With the Pound Ridge population swelling to over 4700, a second ambulance was necessary to accommodate the increased call volume. Acquired in 2000, the new ambulance took first position in the garage. The older ambulance was housed in a tent next to the building. This "temporary" solution lasted ten years.  Maurice Bertrand, a long-time Pound Ridge resident (West Road), passed away and left the Corps a substantial legacy. In 2010 the Corps used the legacy to pay for major renovations that brought both ambulances indoors and updated the building and grounds. The area adjacent to the town path was cleaned up, landscaped (a joint project with the Pound Ridge Garden Club) and named Bertrand Park In honor of our benefactor.
Present Day
With the population exceeding 5200, Pound Ridge Ambulance now responds to over 250 calls per year.
Thanks to support from our community we recently purchased a new "state of the art" ambulance complete with a Stryker PowerLoad and PowerLift Stretcher system. Other donations allowed the addition of two Lucas Chest Compression Systems (automated CPR).
Other technologic/medical improvements include the new Electronic Patient Care Reporting system (ePCR) and the management and administration of Naloxone (Narcan).